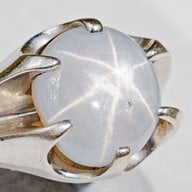 Joined

May 13, 2021
Messages

272
The first time I rode as a little girl, I was learning about cadence in the saddle, so I didn't have my feet in the stirrups (thank goodness). The horse rolled in the sand with me on his back, his legs kicking up to the sky. I was able to jump off, otherwise I would have been smooshed!

Palominos are so gorgeous,

@Daisys and Diamonds

!!

PURPLE

is up and I just happen to have a ring fresh off the bench from Inken Krause (Enhoerning Jewelry)! I may start a separate thread. Royal purple garnet with yellow diamonds. You guys have seen the loose stones previously.
Beautiful stone, great colour combination, classic design.