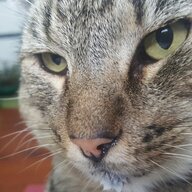 Joined

Apr 30, 2019
Messages

9,758
Welp oof. I have been denied my muscle relaxers that I need by my dentist. She says she prescribed them twice already (at least 2 if not 3 years ago BTW. Not at all recently) and she will not give me more. I now have to hope my new PCM will be willing to help me in February when I go to see them for my first visit. But I don't have high hopes. Every single time I have requested relaxers for my TMJ they have treated me like a narcotics seeker using my medicine to get high. I have had to have special visits just for justifying it to them more than once.

I'm already starting to have a hard time eating. The shooting pains when anything goes in my mouth started a couple of days ago and they only get worse the longer I don't have medicine. I have a difficult time opening for more than a spoon or fork. And I am not sure how I am supposed to have my dental cleaning tommorow with such a small opening. But I have to because its been a whole year since I got a cleaning and I need one.

I don't know what to do if the new doctor says no in February too.
Perhaps the dental hygienist will be more understanding of the problem and have a word with the dentist ?
This sounds a terrible and painful predicament to be in