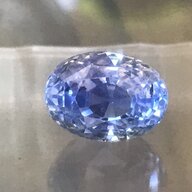 Joined

Jul 14, 2020
Messages

174
We have no idea who's making offers to whom. Best not to make assumptions. My post was based entirely on what OP has told us about the transaction and what she's posted.

As others have said, he most likely doesn't have the diamond any more. Even if he did, how many vendors do we ever hold to a "trade in for custom work with a takebacks for regrets clause" expectation?

The original trade was fair from a dollars standpoint. This assertion is incorrect: The completed sapphire ring reflects all details on the work order. The problem is that the details on the work order don't reflect what OP actually wanted. There were many opportunities on both sides to nip the ensuing aesthetics dissatisfaction in the bud, that neither party took. In fact, clearly neither party was particularly careful about the even the original terms of trade. A long time ago Leon made an old poster

@CharmyPoo

a ring that deviated from his work order; she pointed it out and he remade it to spec no questions asked - the words on the SOW are critical in any contract with any vendor of any type. What is a

fair

and

viable

"I'm sorry you're unhappy" standard in this scenario? In my opinion having him remake the mount and splitting labour and materials would have been reasonable, given that there was negligence on both sides - was this ever proposed as a solution? We don't know.

Also remember that we are immediately post-COVID. Remember that Leon is in NYC. Remember than Leon continued to pay personnel through the NYC shutdown, which lasted longer than anywhere else, whilst income intake dropped to zero. He may not have reserves for large "above and beyond" financial gestures like you're suggesting. He might. I don't know, I'm merely stating the possibility.

Inflated appraisals are the industry standard, unfortunately. You'll get this sort of inflation from pretty much every vendor who is popular on this board. I concur, that's not a

good

thing.
It's hard to forget that we aren't actually POST Covid. My business has been dead with NO help from our GOV since March. I'm still not able to work - so the empathy goes both ways. You don't know the OP's situation and LM has shown zero empathy in this situation and yet your giving it to him.
Customer satisfaction should be very high on any business persons list.
I often have had and will have to spend many hours I never get paid for just purely for customer satisfaction. While there is line to stop people taking advantage - there are always compromises. If I make the money more important then my client it becomes very obvious to them. It would see to me LM deserves the bad reviews and loss of customers that this type of transaction would attract.
Nothing that you have said has made me think he did anything other then serve his own interest.
I respectfully disagree that he made what was requested.
the job sheet referred multiple times to the picture and the picture was obviously granduated. His is rough, not refined, and barely if at all graduated.
They barely resemble each other.
I wouldn't be anywhere near happy with that result.
-she wasn't happy when he showed her the stones before they were set and he assured her they would appear graduated even though he should have had diamonds properly cut for the graduation.
He should have know it was going to look different and mocked it up for her before setting.
I really loved his work - but now I wouldn't go near him.
I'm very glad the OP posted and don't think she should have to see people tell her it's her own fault. If LM made an awesome ring to begin with none of this would have happened.