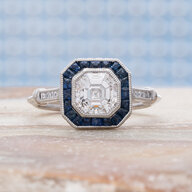 Joined

Sep 7, 2011
Messages

119
I love Art Deco style and previously had a beautiful Sebastien Barier e-ring. It was meant to be worn on my right hand but because it sat so high and I am right-handed, I found that I wasn't wearing it on a daily basis for fear of dinging it.
I decided to try to exchange it for a lower-set ring I could wear on my left-hand and looked into a sapphire ring. I approached Leon Mege because I love his work and had purchased a lovely Art Deco-looking band from him years ago. He told me he had a beautiful sapphire he would be willing to make into a ring with a few French Cut diamond side stones in exchange for my diamond. (My diamond was a 1.32 G/VS2, triple Ex and the sapphire is 1.69, heat-treated.) We agreed to use a photo of an Art Deco Van Cleef ring that I've loved for ages as the inspiration but in reverse. (The Van Cleef ring has a diamond keystone and sapphire side stones.)
We sent the sapphire to GIA for grading in Dec. and it came back in early Jan. In mid-March, after I reached out to Leon to check on the status of the ring, he sent me a photo of it (below) and my heart sank. It doesn't quite have the Art Deco feel I had hoped. Leon proposed adding some engraving to the shank to make it feel more Deco and I quickly agreed. He told me it would cost an additional $500-800, though, just to engrave the top of the shank and that he'd confirm the price after speaking with an engraver in his building. Then the coronavirus arrived and we had to pause.
Since then, I have been filled with remorse about exchanging my diamond. My financial circumstances have changed and I can no longer pay the additional amount to engrave the ring. I told Leon I was unhappy and asked if it was at all possible to get my original stone back. He advised that it is, but I'd have to pay for the setting of the new ring he created, which is fair but just not feasible for me right now.
I know I could and should have managed this process differently, but the net result is I no longer have a ring that makes my heart sing.
My husband never wanted me to do the exchange so I am loathe to complain too much at home, which is why I am sharing this with my PS friends. (-: (I also feel quite guilty about being unhappy with a ring with all that is going on in the world.)
I'd love your thoughts.
The inspiration: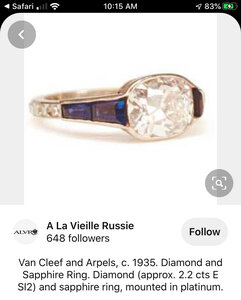 The Leon ring: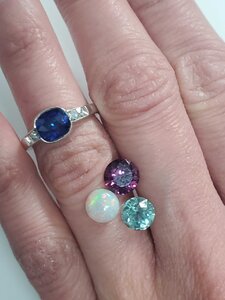 Last edited: