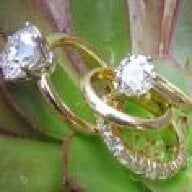 Joined

Feb 24, 2008
Messages

3,365
Hello all!
The big moment has finally arrived for me, and I have a new respect for the fantastic photos that so many of you seem to accomplish... I do have a macro setting on my camera, but it just didn't seem to 'work'. And then the batteries ran out! I guess I'll try again tomorrow.
Anyway, here is the shot I managed before the camera went 'beep'.
I wanted to say a big thank you to Jogia Diamonds, in Perth
linky
I really couldn't possibly be any happier with the performance of my diamond, it's incredibly lively, my sister summed it up when she said she thought it was 'the prettiest diamond she's ever seen'!
The ring is slightly tight, because I am a few weeks from giving birth...size H1/2
(I think around 4.25)
Also, the setting is beautifully done, total quality!! I had a matching wedding band made up at the same time.
I'm feeling like Goldilocks, for me the carat weight and the overall specs are juuust right...
1.11 F/SI1