Joined

Apr 8, 2019
Messages

31
I've always wanted a (mined) green or (lab) blue diamond with a double halo, one pink and one colorless with shapes other than rounds. It's shameful how many versions of this ring I have saved on my Instagram but I think this was the one that started it all:
http://instagr.am/p/BviI1t3Av7-/
I decided to move forward with this project in January 2020 (was that a decade ago??) but put the brakes on when it became apparent I should save my little pennies. Fast forward a few months and I saw some blue diamonds from Tianyu on Instagram. On a whim I inquired about the largest one they had (why not?) and was shocked by the price. I knew it wasn't the most saturated blue they had and probably wasn't the BEST version I could find, but the price was right to give it shot. (2019 me never would have taken the risks detailed in this post but 2020 me appreciates life is short and apparently risk‐taking increases under boredom.)
the blue diamond:
http://instagr.am/p/CC-uVkBlOf6/
Ella from Tianya was as helpful as I think anyone could be providing pictures, videos and information but I knew it would be a risk to purchase from a Chinese vendor where returns would be difficult from the US. For those interested, I communicated with her only through Instagram DM and paid via PayPal. The transaction was painless and shipping was fast.
Stone in hand, I had to decide on a design. The least risky choice I made at this point was to contact David Klass. He created my last project (a somewhat complicated ring-dant) and I wanted at least one trusted and US vendor in the mix. I discussed a couple of designs with him but ultimately settled on a halo of hearts and ovals. Sadly at this point I had to drop the pink halo when David let me know that ring would be 25mm wide

. He also didn't have a source for lab hearts in the sizes required but luckily I had a vendor in mind.
Enter Vijay from Ouros Jewels (
https://www.etsy.com/shop/OurosJewels?ref=simple-shop-header-name&listing_id=740836295
). I had seen his "size-wise" line of diamonds and messaged him to see if he could give some assurances about the diamonds coming back in the sizes listed and matching in color. He was kind and patient and I truly believed him when he said he would make sure that I wasn't going to be disappointed. Once again, 2020 me took the risk and ordered the stones (from India this time).
Within a couple weeks I had the stones back from Vijay and they were BRIGHT. None of my other diamonds are E/F in color and I noticed the difference right away. The cut also seemed good so I was pleased with that experiment.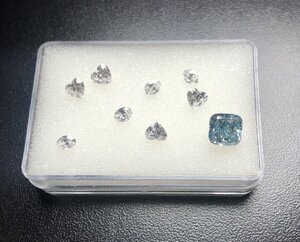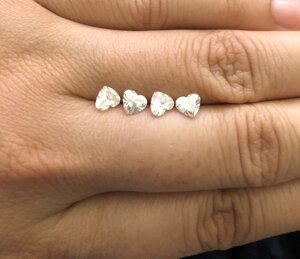 David, as always, is a master and completed the ring exactly as I wanted. Here is his Instagram glamour shot:
http://instagr.am/p/CG0yLj3hAU7/
... and here are my less-glamourous shots: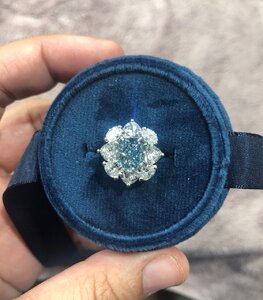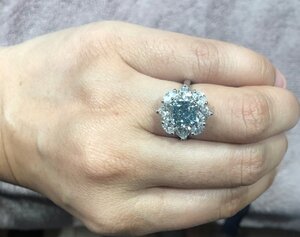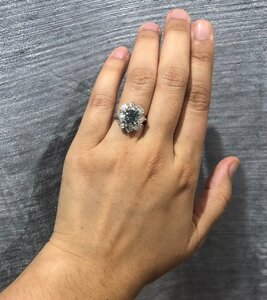 specs: 2.34 carat lab blue - 7.64 x 7.13 x 4.72 mm
4 lab hearts - 4.7 x 5.2 mm
4 lab ovals - 4.5 x 3.2 mm
platinum ring
I'm super pleased with the results but the only problem is now I want an eternity ring with Vijay's stones and I'm supposed to be on a bling ban! I think the biggest eye-opener I've had from my first lab diamond experience is how easy it was to get stones ordered "to size". I don't know how I would do this for mined diamonds and they wouldn't be at the same price points as Ouros. It certainly makes these fun projects more attainable in my eyes.
Thanks for reading!