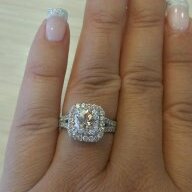 Joined

Feb 3, 2016
Messages

184
Thanks to all the help here at PS, my FF and I ordered the engagement ring.
The setting is:
http://www.jamesallen.com/engagemen...es-allen-exclusive-engagement-ring-item-49513
and the diamond is:
http://www.jamesallen.com/loose-diamonds/cushion-cut/1.57-carat-k-color-vs1-clarity-sku-697990
So, the ring arrived today and it has the wrong color head.
JA
made the ring in all WG instead of YG head, WG shank as shown. First they said that is the way it is supposed to be made and two-tone was a special order but when I pointed out their own answer to a question asked about the ring on the site about it being two-toned, they said I was right and would make the ring over, if I want. Of course, that would take a few weeks. Add on top of this, that the ring was delivered to a family member and will be with them to FF proposes so I don't get to see it yet. I was told it was absolutely beautiful as is. I only know it's wrong because I mentioned my ring would be two-toned and they peeked and said it wasn't.
My question is that it is a K colored cushion and I'm wondering whether keeping it in the WG will help it face up whiter or if setting it in a YG would be better. The SA I spoke to today said that by the video of this diamond it shows very little warmth, almost none and faces up very white. From looking at different posts on the site, I see that YG may play up warmth while WG would make it look whiter but more in a creamy/ivory way. Would I be better (sight unseen) leaving it in the WG head or asking FF to return it and have YG head placed on ring? He knows they got this wrong but he himself won't see it until the weekend and would just tell me to change it to whatever way makes me happy.
Thanks for help in advance.