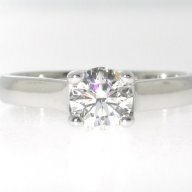 Joined

Oct 22, 2007
Messages

399
Ok so, it''s taken me FOREVER!! to figure out how to take even somewhat "ok" pictures. Before I start posting, I''m sorry that they are still pretty darn bad, but... I''m making improvements and they are no longer purple blobs or diamond blobs that no one can make heads or tails of.
I''m hoping to figure out how to do the e-ring and diamond bands this evening.
So, I''ll start with the amethyst that hubby bought me for christmas last year (2007). I had absolutely no idea what I wanted to do with it for the longest time. I knew I wanted a ring, but I wasn''t sure of the setting or anything. The stone is a little more than 3 carats, and it''s gorgeous - I really wanted something that would show it off and not take away from the beautiful purple and the blues and reds that it flashes. So... without further ado....