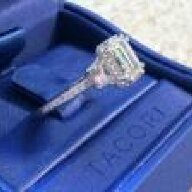 Joined

Jun 7, 2011
Messages

3
Hello,
I would just like to start off by saying that this website was extremely helpful in helping me determine what to look for in a diamond, so I want to thank you all for the enormous amount of posts to sift through leading up to the purchase of the ring.
http://www.pricescope.com/myimages/forum?id=message#
I recently proposed to my fiance (she said yes) after about 3.5 years of dating and after about 7 total years of knowing each other - we went to the same college and met freshman year in our dorm.
About a year ago she saw and fell in love with the Tacori 2628 emerald cut ring. So after a lot of shopping around, I found a local jeweler that is a Tacori dealer - they were extremely knowledgeable about diamonds and the various Tacori settings and I am extremely pleased with the results.
So, now what you are all interested in:
The setting: Tacori 2628 ECP (Petite Setting)
Metal: Platinum
Weight: .64 carats, G VS1 (I counted 42 stones - 9 up and down each side of the shank, 16 in the halo, 3 on both sides of the ring, and the 2 side stones)
Size: 7 1/4
The Center:
1.0 Carat GIA Certified G VS1
LxW Ration = 1.5
I know there are similar rings on here, but I have yet to find a picture of the emerald cut center stone with this setting. It was EXTREMELY helpful for me to look at the other 2628 settings (Lotsofsparkle's comes to mind) when deciding on certain features (metal/size/etc) and I hope that others find this useful when deciding on this same setting. If for nothing else, it helped the 4 week period go by (Tacori takes 4 weeks to craft the ring) so that I had a small idea of what my ring would look like.
I get more info on the center when I get home (I forgot to write down the specifics) and will update this post at that time.
Both of us are very excited about the ring and we are happy to answer questions others might have about our experience (so far) with Tacori, its selected retailers, the setting, or anything else! Hope you enjoy and thanks for looking!