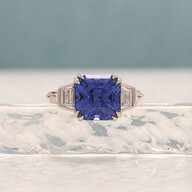 Joined

Feb 21, 2010
Messages

430
It was your ring that made me curious! I was admiring what a lovely yellow it is.
Thank you. I'll give you a comparison - the OMC is the lowest of the low, drill dodging lower color. Here is my just a wee bit more yellow light fancy (per the GIA).
It's like saying a golden retriever is objectively better than a golden retriever - I don't buy that as an absolute.