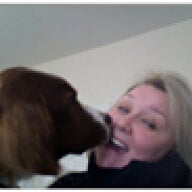 Joined

Jan 5, 2009
Messages

2,655
hallo all
bit of a mixed day here....
jim meyer sent my new platinum milgrain band to me at the beginning of last week - registered mail - and it''s failed to show up on my end. given that he is only in PA and i''m just above NYC, the 10 day delivery period is starting to look a bit worrying. he and i are both planning to lodge search queries today, but it''s not looking good. i''ve already called USPS once so far and had no joy. jim is talking about needing to remake it from scratch

so i''m very disappointed about that!
however...!!!
my engagement ring reset has turned up at home - YAY! when my husband and i got engaged 26 years ago, we had a small solitaire set in yellow gold, and yellow gold wedding rings. they were poor quality. his snapped and mine gave me eczema! go figure! so we had a new set made for me in platinum - 3 stone diamond, .83 in the center, and .25 either side. i wore it for some time, but i always felt that with my large fingers (size
, the side stones didnt really do the business. so a couple of months ago we sent the ring to von bargens in new hampshire to have the head hand made and new side stones (.46ct and .47 ct) put in. the stones are F VS1/VS2 , ex/ex polish/symm, ex cut, with all the right specs for table, depth, crown and pavillion angles, girdle thickness and so on and so on.
unfortunately...i''m in LA! so when my ring arrived in NY this morning, my husband took some photos and shot them over to me. so please ignore the enoooormous fingers in the photos; mine are big - but they''re not THAT big!!
and here''s my gorgeous new ring...