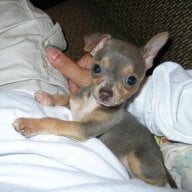 Joined

Dec 16, 2007
Messages

5,184
Okay, we have all seen the pictures of Jessica Simpson taken this past week by now...high waisted jeans, black tank top, and double belt...the one where she looks thick and fuller figured than we'd ever seen her before...and the gossip world has all but exploded...

What do you think?

For me personally, I feel bad for her. Jessica Simpson isn't my favorite celebrity, but I think that the slack she's catching is absurd. As women we want to look good, feel good but what kind of example are we setting for each other when we attack someone for gaining 10 or 15 pounds? ...But, than again, we've been sending such a horrible message to woman for years that at all costs you need to be skinny, skinny, skinny in order to be beautiful.

It makes me sad, honestly. Sometimes I really believe obesity is one of last few acceptable discriminations...that there is just no "enough is enough" limitation when it comes to rail roading someone over their weight. You can say anything and get away with it...there is no universal breaking point.