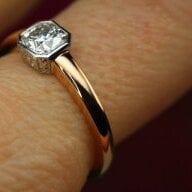 Joined

May 1, 2007
Messages

3,348
tyty333|1319312867|3045526 said:
ack! tyty, sorry - i knew there was another post to respond too. god am i tired. ok, so THANK YOU for these awesome links. i love the profiles with the S curves, that could look really pretty integrated into the design.
seeing the bezels enclosed - you know, i kinda like that too. it's all going to be pretty small anyway, so maybe having the bezels enclosed keeps it simpler and puts the focus on the hearts? i'm not generally into hearts but this represents my parents, who are awesome and have always been very loving, so it's really an appropriate design in that regard.