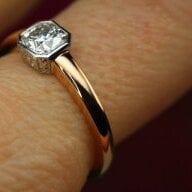 Joined

May 1, 2007
Messages

3,342
for inquiring minds who might want to know

: after much agonizing and a hearty game of mental ping-pong, i finally realized that my heart lay with the JbEG 'lisa' setting. the majority of you kind PSers who offered up your opinions for me were in favor of the ann mackay setting, and my family also agreed. but.... i found myself disappointed the 'lisa' didn't have the overwhelming edge, which i finally paid attention to. and while other gorgeous options were offered up and considered, i always found myself going back to the 'lisa', which i also finally paid attention to!

i can't thank everyone who chimed in enough; you helped me sort through my thoughts and emotions and make sense of it all!!
so.... which do you like better, the yellow gold or the platinum and why? it will be a RHR; the diamond is a half carat, D color, august vintage round.
also, would you make the sapphs a little larger or keep them as is? if larger, by how much?
also, can i get everyone's thoughts on the CADs? any tweaks, concerns, suggestions? (one thing i know already, erica and i both agreed we would love milgrain on the bezels!)
TIA for your help!!!!!