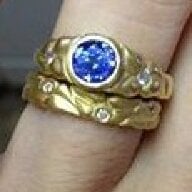 Joined

Jan 23, 2008
Messages

3,518
I am SO HAPPY to see that this went to a PSer! If I hadn't gotten all my christmas goodies before this sale I would have a JM piece to post myself! But alas I had already chosen and bought my goodies before this happened!

With that being said... WOW WOW WOW! I LOVE it! This is beautiful, artistic, organic and sheer perfection! And a rose cut to boot! One lucky lady you are! Wear it in good health!


And for those who are wondering about JM he is moving onto other things that he has interests in. He is in his 70's and loved making jewelry and will be accepting SOME custom work if people request it from him. I believe he is going to try more engraving work, although I can't be certain and I'm not sure if it's going to be jewelry related. JM had a great sale, 35% off all his stuff and man oh man, I wanted almost everything, lol.