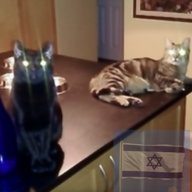 Joined

Jun 8, 2008
Messages

43,516
My Bubbalahs.
My dh who always shows how much he loves me and my heart swells with how much I love him and my dear grandma long gone but forever close in my heart and memories.
If I may digress for just a moment. I cannot say enough about my darling husband. He always goes above and beyond and puts me first no matter what. His love is true and pure (as is mine for him) and I cannot believe it possible to love someone so much. This is what makes me truly lucky. The bling is just icing on the proverbial cake. But my dh, he is the cat's meow in every way. My one true and irreplaceable gem.
Without further ado may I introduce my newest Bubbalah... my 4.93 GIA JVS1 OEC. I was going to call her Shayna Maidel after the nickname my grandma always called me. But then Bubbalah just came to my mind and the name reminds me of my grandma so much and feels like the right name (though a mouthful haha).
She's bright, bubbly, angelic, amazing.
Truly my Unicorn in so many ways.
Photo of her loose.


Like my Unicorn dh, my new OEC is one-of-a-kind...dear one Bubbalah - my grandmother's affectionate name for me and for what my dh and I call each other. We are each other's Bubbalah. So it feels right that this OEC be Bubbalah. In honor of my grandmother and my dh.
"Bubbalah is a Yiddish word, traditionally used by Grandmothers, that references children. The modern usage of the word can be extended to any person that is considered darling and close to one's heart."
B
is for Beatrice, my grandmother dear
U
is for Unicorn, incredible, so rare
B
is for Beautiful, chunky facets galore
B
is for Bubbly, personality and more
A
is for Angelic, a heart so pure
L
is for Lucky, love that is so strong
A
is for Amazing, incredible and true
H
is for Happiness for all that you do
To the bubbalahs I love so dear
Miss grandma but in my heart so near
My darling sweet hubby
Sharing a love, I call him Bubby
My Bubbalah my B'shert
And my first OEC
The ever lovely Bea
She has a new name
But her BEAuty remains
Bea's new owner of whom I'm so fond
She's always posh, lives across the pond
Her new human so great
A worthy home, it's fate
New twinkly Bubbalah
What more could I need
I'll wish for health and peace
For all those who now read
Up before 5AM and decided to take no chances lol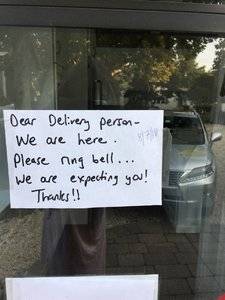 Though Greg is outside all morning BBQing and woodworking just so there's no chance of missing the delivery person hahaha.
Backstory
:
Thanks Grace for everything you did to make this OEC mine. It was truly meant to be. Backstory for those who don't know the history. 2 years ago I first saw this OEC at the Jewelry and Watch Antique show in NYC. She was at Grace's booth and my heart went flip flop flip flop. I fell in love and I fell hard. Here are some photos from 2 years ago when I first saw her.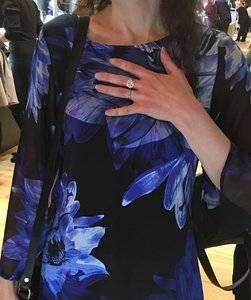 In her temp setting...that profile gets me.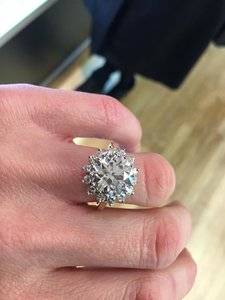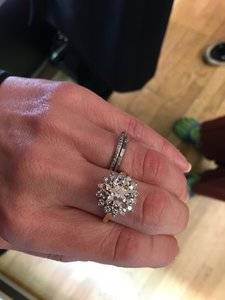 I agonized over the decision in 2016 but just couldn't bring myself to part with Bea at the time (though I actually had a potential buyer for Bea). This OEC got sold in 2016 and fast forward to just last month almost 2 years later. I had been searching over the past 2 years but nothing grabbed me like Bea. I saw many beautiful OECs gorgeous in their own right but in my heart and head I didn't find anything close to Bea and also couldn't stop thinking about "the one that got away".
I don't know why or how but fate intervened and Grace unbeknownst to me had convinced the new owner to part with her as she rarely wore her since generally she wears much bigger diamonds (think 6, 7 and 8 carat diamonds OMG) so this beauty remained unloved and unworn.
Just 2 weeks ago at the NYC JAWS I saw this amazing OEC again (in another setting this time from the new owner) and knew she was meant to be mine. She is now out of that setting and back temporarily in her previous setting for now until I find the perfect (for me) solitaire setting. In the meantime I will try to get used to the huge presence she has in this setting lol. And as
@LLJsmom
said hopefully I can adjust to her size when she is in her final solitaire setting.

Thanks for reading if you got this far and for a break in the monotony of my words a sweet treat and sneak peek from Grace.
https://www.instagram.com/p/BmJuYjRgmMN/?taken-by=jewelsbygrace
Where is that delivery person OMG. My heart cannot take this waiting.

It's here it's here woohoo!!!!