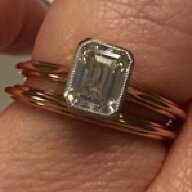 Joined

Jan 25, 2008
Messages

452
I think I'm about to do it -- trade my emerald cut for a cushion cut. I saw a ring with a cushion cut in a phenomenal rose gold setting this weekend, and I fell in love -- with the sparkle! I do love my emerald cut, but I really want sparkle. And, I'm trying to make a move on the stone before diamond prices get too out of hand.

So, I've found a couple of nicely cut (according to my jeweler) cushions, but they are J color. My current stone is a J, and it doesn't bother me in the least. Actually, the only time I notice any tint is when I'm in the jewelry store lights. Warmer stones don't bother me.

My jeweler told me that the cushions are going to show more color than my emerald cut. Is that true? Do you think it will be a lot more noticeable than my EC?

I am planning (eventually) to set it in a rose gold bezel.

What are your opinions?