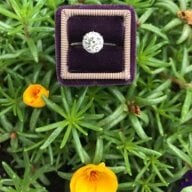 Joined

May 25, 2016
Messages

308
I'm like a ghost that is haunting this place, lol.
(Just floating around in the background. Dumb joke.)

I've decided I either want 1. a halo that allows a ring to fit decently flush, or 2. I want a standalone ring.
I've been talked out of a halo that has a heavy basket. (Hard to clean, prob not for me.)

I am actually less keen on a pave shank (halo); The idea of a smooth band appeals to me.

But the halos with a plain shank seem hard to come by. And some look lacking by comparison.

I love many of the rings on JewelsbyGrace. I also like Love Affair Diamonds a lot.
I look at these sites daily. But I haven't found THE one on JBG. And I suspect LAD halo rings all sit a bit higher than I'd prefer.
And it doesn't appear that bands fit flush with any of the halos.

Just thinking out loud here. Sigh.