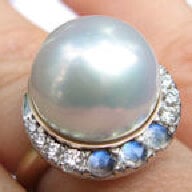 Joined

Jan 9, 2007
Messages

7,312
Last month I discovered Pricescope because I was looking for a new diamond after losing my ring. After studying here for a while I realized that it was possible to purchase long desired diamond studs on a budget. I outlined my plan to buy the loose stones from
Blue Nile
and have them set locally in this thread.
https://www.pricescope.com/community/threads/i-just-ordered-j-stones-for-diamond-stud-earrings.56083/
I''m back to report that my plan worked perfectly and I am now wearing my sparkly new diamond studs. In the meantime I also found my diamond ring (and returned the claim to the insurance company). It all worked out great. Another PS success story.

To pick up the tale where I left off. The two J SI1 diamonds (GIA excellent cut, 0.42/0.43 ct, both 1.4 on the HCA) arrived from
BN
exactly on schedule. I checked them out under the microscope and all the inclusions appeared white. I couldn''t find them under the loupe, so they are definitely eye clean. I compared their J color to my 1.5 ct F VS2 diamond. As many have written, I could sometimes pick out a slight tinge of yellow looking through the side, but they faced up white. Thanks to other PS threads, I located the platinum martini fittings in the Stuller on-line catalog, so my jeweler simply jotted down the part number and placed the order for me. He called four days later to say they were in. The next day I had the diamonds set. (He has 3 full time setters at the shop, so this was a quick job for them.) Cost for the platinum martini fittings, medium heavy push backs, setting and tax came to $214. My total cost for GIA excellent cut 0.85 ctw J SI1 diamond studs in platinum martini settings was $1339. The HoF quote was more than twice this for 0.75 ctw I/Js!
So, thanks for PS for showing the way. I



these. And, here are my new studs!!!