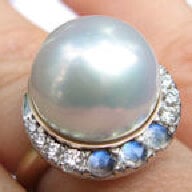 Joined

Jan 9, 2007
Messages

7,312
thanks to what I have learned from all of you at Pricescope, and I sure hope this works!!!

I found Pricescope about three weeks ago because I am back in the market for a nice diamond. I lost my e-ring upgrade/25th anniversary ring and the insurance check has now arrived. Time to reeducate myself on what to look for in diamonds. I must say that all this help wasn''t here when I bought my e-ring upgrade about seven years ago, and I think it is great.
For many years I have wanted a nice pair of diamond stud earrings to wear for everyday, but I hesitated to buy. Mall stones didn''t have enough sparkle, and a nice pair of HoF earrings (.70 ctw, I-J color, white gold settings) costs $2,500 "on sale" at the local B&M. It is another $200 to upgrade to platinum. That''s too much for something I can''t look at for myself during most of the day!

Hopefully I have correctly absorbed your teachings about cut and color. Before Pricescope I would have insisted on G-H color and VS2 clarity. But it sounds like K color and SI1 will work fine in earrings, because sparkle is all about cut. Now, I am a numbers person, so I really wanted certificated diamonds so I could run them through the HCA. And, I know from wearing my now lost ring (it was a 1.5 ct, F, VS2, med blue fluor) that I prefer a bit of fluorescence. Finally, after studying Pricescope threads with the pictures of ears with earrings and considering my own favorites among the earrings I already own, I decided that I wanted stones that were no larger than 5 mm in diameter.
It all came together when I saw these two J diamonds on
Blue Nile
.
http://www.bluenile.com/diamonds_details.asp?track=findsimilar_ldresults&filter_id=0&pid1=LD00410302
http://www.bluenile.com/diamonds_details.asp?track=findsimilar_ldresults&filter_id=0&pid1=LD00476914
They are .42 and .43 ct, J color, SI1, GIA Excellent, both 1.4 on the HCA. Measurements are 4.82-4.86 x 3.00 for the smaller stone, and 4.85-4.88 x 3.01 for the larger. I''m thinking it is unlikely I will be able to tell the difference between them. And, they both have faint flourescence (I suppose blue, but don''t know for sure). Total cost is $1,125.
I plan to go with martini style platinum settings (not screwbacks) that I will purchase and have set locally. I know white gold is cheaper, but I reserve that for jewelry items I don''t wear every day. If I wear these beauties as much as I think I will, I''ve decided that I want the platinum.
Blue Nile
wanted $450 to set the diamonds into platinum, non screw back settings, which sounded like too much.
So that''s my plan for my earrings. When all this is done I hope to have slightly larger earrings than the HoF (.85 vs. .70 ctw) that are nearly as pretty for close to half the price. The diamonds are due to arrive in a couple of days. Like I said at the beginning, I sure hope this all works!
Thanks, and talk to you all later!!