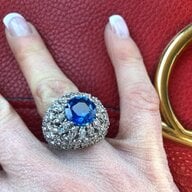 Joined

Dec 25, 2019
Messages

50
....ok, so I've always had a love affair with jewelry but never bought myself any important pieces. Yes, I have a lovely RB GIA 2.68 carat H/Si e-ring that I wear everyday and it's super sparkly and totally eye clean but when we bought it I knew absolutely nothing. Luckily it's a very nice stone.
But when I started realizing I could buy myself jewelry (yes! to some that concept comes late!) I very much wanted a diamond solitaire pendant. I started researching diamonds and taught myself some but still didn't feel confident. So I did what made me feel comfortable.
I went to Tiffany's!!
I know, I know. I hear you all groaning already but my jewelry buying is a solitary activity (DH has zero interest and my mother simply doesn't get it).
So I didn't want to make a mistake. And I didn't know about resources like PS.
Plus, at this nascent stage of my collecting, I really really wanted Tiffany.
I also knew I wanted over a carat and.....wait for it..... I wanted it perfect.
When I saw this E color IF clarity 1.08 heart-shaped carat beauty, I felt weak in the knees.
I know I overpaid. I know it's overkill. But I love it tremendously and I have worn it every single day eat sleep gym shower everything in it so I guess wear/cost is good.
Even now that I've acquired a lot of knowledge, I still enjoy that she's "mind clean".
I call her Efie because of her specs.
Here she is.
My first "real" jewelry purchase.
Oh.....and I must've caught a Tiffany "bug" because the Jazz drop earring followed very very shortly thereafter....so I threw them into Efie's Post!
Thank you for letting me share.