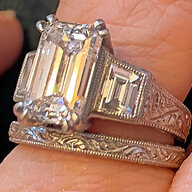 Joined

Apr 6, 2005
Messages

10,222
Date:

1/22/2007 9:08:57 PM

Author:

ladykemma

Date:

1/22/2007 2:17:22 PM

Author:

Catmom

Yes, and I''m so happy it is back!! Today I am wearing yellow gold. I dug out some old YG twisted hoop earrings and I am loving it. Yay.

yeah, me too. i had to polsh mine though. it had been sitting around and looking yucky and tarnished. I used a sunshine cloth and cleaned and polished it all back up again.

have you ever really looked at how pretty yellow gold is?

added: did you notice how much yellow gold was in ''The Devil Wears Prada?
LOL, I had to polish mine too before I could wear them but boy did they look nice after the cleaning! I''m sorry, I just don''t see yellow gold as "hideous", but then that''s just my opinion. To me yellow gold has a richness that can''t be duplicated. To each his own.