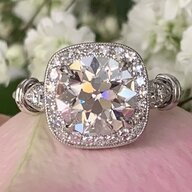 Joined

Jan 11, 2006
Messages

56,145
i see. thank you!!

of course i want THE most effective cleaner for diamonds. BUT i also care about using something that doesn't do so much harm to the environment, preferably no harm

that's why i got the ultrasonic with steam option, as it just uses water.
pheewww, so happy to know that dawn is environmental!

thanks very much karl, for saving me some research time. greatly appreciate it!!!

im going to get some dawn when i leave the house for groceries
They actually use Dawn on wildlife that has been caught in an oil spill! It's superior in removing grease. I use some Dr. Bronner's in soap pumps, but it has oils in it so I wouldn't use for cleaning jewelry. Dawn or Windex are the ones I use. If I want to do a fast clean, I'll just put my rings in a little bowl, spray windex, brush and rinse. That uses so little that it really can't cause any harm.
Oh, and for an extra bit of info on Dawn, it will kill fleas if you bathe a dog with it!