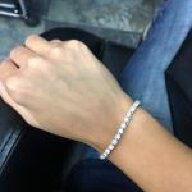 Joined

Sep 28, 2015
Messages

42
Hi PriceScope,
This is my first post here after reading for a couple of months, so if I do anything wrong please let me know.
My problem is with the color of my wedding band/e-ring and jewelry in general:
- We returned the e-ring my partner proposed with, I wasn't sure about it. It was a Tiffany Harmony with bead set band in platinum.
- I was told to get white/platinum if I want a diamond e-ring, because yellow gold will give the diamond a yellow reflection.
- We are eloping in a couple of weeks, we ordered matching wedding bands, I got mine in white gold for the above reason.
- I don't really like the look of white metals.

Now what's basically happening is that I have to get everything in white gold or platinum to match this. A white gold e-ring, my parents are buying me a gold watch which will have to be in white gold also (I really liked the rose gold version), and a bracelet/necklace also in WG/diamonds.
Is there any way out of this?
Can I mix everything up and get my e-ring in yellow gold and the watch in rose (pink) gold, or do you think I should just suck it up and get everything is white metal?
I don't hate white metal but I lust after yellow/rose gold.
P.S. The wedding band is 4mm shiny WG with no diamonds. Attaching the picture of the ring on my partner's hand in matte palladium, and the watch I want in rose gold/brown band and white gold/black band.