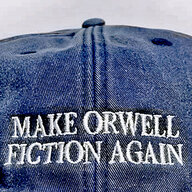 Joined

Apr 30, 2005
Messages

27,722
Re: is PS biased? a real advocay site? who started it and ho
Gypsy|1295397113|2826191 said:

This isn't the first post that has called into question PS's slogan of being a "consumer advocacy site". I think it's a valid question.

Do I think that PS has a whole is a consumer advocacy site. Yes, despite the fact that it makes a profit. Because I know that PS would be nothing without it's members. The knot is still fun without members (and I stopped posting on there many months before my wedding because the forums were mean and nasty). The members on this site are what keep it 'honest'. Do I think PS is at risk for losing the right to call itself a consumer advocacy site? Yes, in fact with it's recent actions against an non-advertising vendor I was sure that this place was going to turn into a shill site.

But the members spoke up and provided a check to the actions of the owners. And the owners apologized (grudgingly, but still). And that, right there, is why I still post here and still think this is a consumer advocacy site, though since it has come up again and again, perhaps the title should be reconsidered.
Hi Gypsy.

I'm confused; Your post has 3 paragraphs.
Is there something missing between paragraphs 2 and 3?
The third seems to continue a thought that was not started.