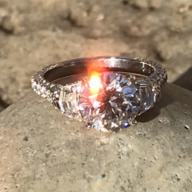 Joined

Aug 20, 2020
Messages

452
I heard a weird statement yesterday from a reputable jeweler and I'm wondering what your thoughts are......is this true in your experience?

Jeweler told me that in their personal experience, AGS is a "bit more lax" on color than GIA. Specifically, I was told that a GIA I color stone would be a AGS H color stone. I was told if I was going to buy an AGS, that I should buy one color up from where I wanted— for example, if I want an H color, I should buy a G from AGS.

Does anyone have any thoughts or insights about this? I'm not trying to cause a war between GIA vs. AGS or anything like that- I'm just wondering if anyone has found this to be true In their experience ? Jeweler said a ton of nice stuff about both AGS and GIA— jeweler just found that there was often a difference in the way the 2 companies grade color.