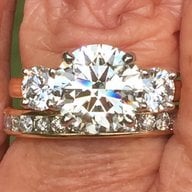 Joined

Jun 23, 2005
Messages

14,784
GIA excellent cut graded stones have more variance in them. Many people have bought them and loved them - depending on how the angles work. I don''t think anyone is trying to say that they are all bad - just that they require further interpretation.

I had a 60/60 stone graded by GIA before their cut grading came into play. It was a white, brilliant stone. I was looking to trade it up to a larger stone - it was at the 2 carat mark. When I started reading about H&A and AGS0 stones, I really thought it was some sort of marketing gimmick. Then I went to see an ideal cut stone. I ended up trading that 60/60 stone for a 2 ct. AGS0 ideal cut stone. The difference - to me - was night and day. Finally I found that ''sparkle'' that I had been missing for so long. Then I began reading and learning about crown/pavillion angle relationships and started understanding a bit about how they worked - or didn''t. I eventually traded up to a 2.22 AGS0 stone - and I''ve been nothing but thrilled with the performance. The edge to edge brillance these ideal cut stones provide is is just a different look to my eyes than the 60/60 stones - and I saw alot of them as well. Who knows what the future holds in terms of diamond cutting? I look forward to new and different as well although I think today''s ideal cuts will always hold a place in my heart so I understand you feeling the way you do about your concept of a beautiful stone. The 60/60''s and today''s version of an ideal cut stone are two different animals. Once you have pointed out the differences, you need to step back and let people make their own decisions.

Many of us have spent many hours here trying to learn and absorb all we can about the particulars of diamond cutting and grading. Certainly doesn''t make us experts - it just gives us knowledge to make an informed decision when buying. While I appreciate you presenting the virtues of another cut, it doesn''t and won''t cancel out what many of us have seen and experienced with our own eyes and wallets.

You can only present information to people - what they choose to do with it is another matter. Honking the horn harder doesn''t make the information more acceptable or believeable. It''s just a different point of view to consider - then you have to step back and let people decide for themselves what they want. We don''t necessarily champion our group of experts here - we have just watched and learned and seen the fruits of what they say delivered. The proof is in the end result.