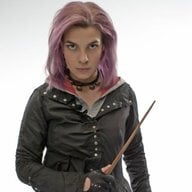 Joined

Dec 27, 2017
Messages

1,302
Our 20th anniversary is this year, and my husband told me some time ago he wanted to upgrade my engagement ring to celebrate. I did what any research nerd would do. Years of diamond research!
https://www.pricescope.com/communit...journey-…-from-a-research-perspective.277780/
The very long story of how I decided on cut, color, clarity, size, and ultimately, an
ACA
is in that thread.
Once we decided, we placed our order to custom cut an
ACA
with
Whiteflash
. While custom cutting is a bit daunting, all the
WF
guarantees apply to custom cuts. There are standards their ACAs have to meet, so no matter what the diamond's specifics, you know it will have amazing light performance. It was also important to us that we have flexibility for future upgrades, and an
ACA
that is custom cut is upgradable just like any other
ACA
. You can even upgrade to another custom cut in the future.
Based on the available rough,
WF
guaranteed minimums for size, color, and clarity. They predicted our rough would yield 4 to 4.05 carats, I color, and VS1.
Six weeks later, Becca (my
WF
sales rep, and possibly fairy godmother) called. She said, "I have good news and bad news." At that I seriously almost had a heart attack. I ran through all the bad news possibilities in my mind in about two nanoseconds. Was it down a color? A clarity? Did it somehow not make AGS Ideal? ACK!!!!!!
Then Becca said, "the bad news is that while it's back from GIA, they forgot to inscribe the GIA number on it, so it will need to go back."
Wait, what? This I could deal with.
Becca continued and explained that while GIA had inscribed "A Cut Above" and the
ACA
logo, they just forgot to inscribe the GIA number. That they actually did it with a whole batch of stones.
And then she got to the good news.
"Are you ready for this? It finished as a VVS2. AND….it's 4.20 carats. I was like, I have to call her to tell her."
Friends. I cannot really describe hearing that except to tell you my brain short-circuited. It took a minute of Becca repeating herself for it to sink in.
We paid for a 4–4.05 carat I, VS1. And we won the custom cutting lottery and ended up with a 4.20 I, VVS2.
WF
's custom cutting policies are such that you don't have to pay the difference. I am STILL pinching myself. Never in my wildest dreams did I think I would end up with a stone with these specs. I told Becca prior to cutting that I really adore chunky arrows and would love it if the stone could have LGFs in the 75-76 range. She told me that
WF
can't cut to those specific requests, and that the stone would fall somewhere in their
ACA
specifications. So you can imagine, I was overjoyed to see that both the GIA report and the Sarin showed lower girdle facets of 75. Becca sent me a peek of the stone on her hand, and I wanted to do a small dance. Chunky arrows and rainbows galore!
Here are the advanced images from
WF
.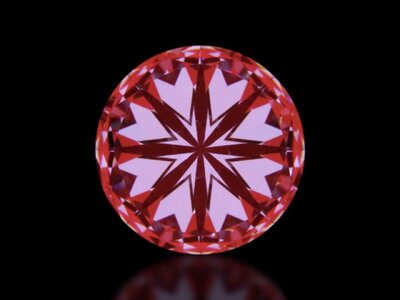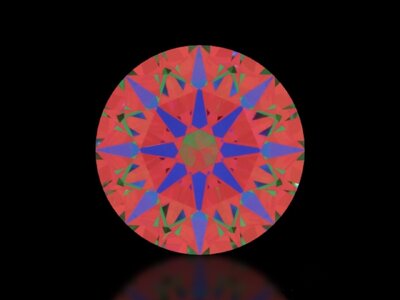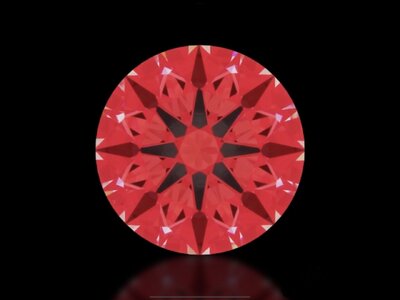 The stone on Becca's hand.