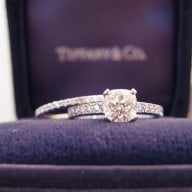 Joined

Mar 20, 2007
Messages

58
Hey Everyone!

I just have to start this post off by saying that I am a long-time lurker of PS - since about mid-December. I was in Las Vegas looking for erings with my BF and went to the Tiffany''s in the Bellagio. My BF loved the solitaire with the channel-set band, but it wasn''t my favourite. I really liked the bead set, or at least something with less ''metal'' around the side diamonds - I actually preferred more of a pave setting. Nonetheless, when we were at the T&Co, the salesperson showed me the Novo pic in the Blue Book and I thought "Yikes, not for me". She had the band in stock, but not the ering. When I saw the band, I LOVED it... And then it was sad when she said that the ering was still only in Japan, awaiting a release date in the beginning of 2007 for NA. How frustrating to find a ring that you love, yet can''t get it in your country for another few months!
So I came home and googled "Tiffany Novo" and PS had come up... That''s when I got addicted to this site.
It''s funny because we had been looking for a while for the perfect ring to no avail. We thought we would go with the ''custom route'' as there was amazing advice on this site.
Then my BF decided to take a solo mission bus trip to NYC to go to the Tiffany''s on Fifth Ave. Long story short (too late), he was supposed to drive with a friend who bailed last minute. We live in Ottawa, Canada and for those who don''t know, it is an 8 hour drive. There are only two Tiffanys in Canada, one in Toronto (5 hours away) and Vancouver (5 DAYS away...lol). They kept prolonging the Canadian release date (still not available). So my BF decided to take a bus there which took 20 hours in total (the original bus got stuck in a snowstorm and had to let everyone off the bus for the night at a hotel). He is so cute, and wasn''t even mad. All part of the adventure he said!
Anyways, on with the ring. He bought me a Tiffany Novo .61ct F colour, VS1. It is a beautiful ring and sparkles like mad!!! It is the perfect size for me, and actually seems to look bigger than a ".61"... Very happy about that!
I will post more specs when I get the actual paperwork this week in the mail (they are sending the folder - it should have taken two weeks). IT IS GORGEOUS!

I know everyone will say that I could have gotten a bigger stone for the price he paid, but it''s what he wanted to get me.
Now can anyone tell me how to take pics that aren''t blurry? Or is it just my camera??
Thanks everyone!