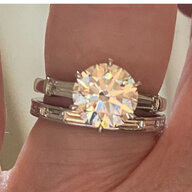 Joined

Mar 31, 2018
Messages

14,373
@stc715

ohh I'm not the only one, now I don't feel like a complete jerk. Lol.

My fiancé accidentally broke my finger last week, pretty bad. I sent him the link to a necklace I want. He didn't buy it. A few days ago he cut his finger doing yard work and I told him he should have bought me the necklace, he didn't make the universe karma whole.

Maybe I have a chance for the next anniversary since he has the link. Fingers crossed…. Ohh wait.
You cracked me up when you said fingers crossed!