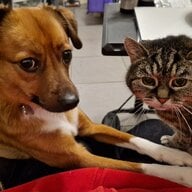 Joined

Jul 7, 2013
Messages

11,567
I was married once, now divorced, and am not planning to walk down the aisle ever again, as I am happily single.
I have always worn a ring on my left hand ring finger since I was very young, starting with a diamond and Sapphire band that my mum gave me (I found that ring recently and it fits my pinkie!).
I am adding this to my LH ring collection, which is what I would have as an ER if I were to get married again.
The pink Sapphire was sourced for me by Jeff White during his Tucson 2020 trip just before the pandemic hit.
A quick recap of the buying/sourcing process, in case anyone is interested in his CS concierge process.
I gave him a budget and an idea what I was after. To aid decision making process, we communicated via WhatsApp and not via e-mail as it was faster.
On the day of the gem hunt, he showed me a video of a stone he found within my budget, and the colour did not suit as it was too dull and did not pop at me.
After I rejected the stone, he mentioned there was not much available within my budget, so I upped it.
He quickly went back to find the stone that he liked which was out of my original budget, and when he showed the video to me, I said yes right away after confirming he would recut it to remove the window that I could see.
The recut stone is 1.93ct, 7.08 x 7.08mm, and the colour pops at me in real life.
Here is a glamour shot from Jeff after the recut: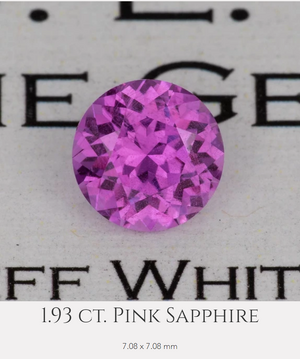 The glamour shot does not do it justice, as it is more neon pink, sparkly and vibrant in real life, as can be seen in this video from Jeff, next to a small Baringo Ruby which is a pink Sapphire that he has also cut for me:
This is the ER design that I had coveted for a very long time, an Edwardian design I believe, and my version will be without millgrain and a thicker shank at the top for a chunkier look, and the melees are likely to be 4mm in size. This is also the ring design that got me hooked on air line/gap halos.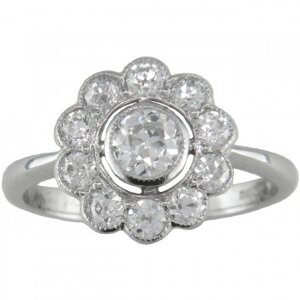 This Sapphire will be my next CS to be set, with earth-mined diamonds in Platinum, as it is my most expensive CS until it is trumped by the big blue green Tourmaline that Jeff will be cutting for me from his Tucson trip last year.
How about anyone else? What ER would you choose if you were given the chance to start again please?
Thanks for reading.
DK