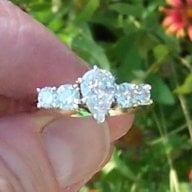 Joined

Jan 2, 2006
Messages

2,194
Date: 1/4/2007 2:40:45 AM
Author: monarch64
Well darnit, I have to say for our very tiny little dollhouse kitchen, I would reface the cabinets and have them all painted white to add some visual space...no never mind, I would just knock the entire thing out and redo it completely. In white. LOL! We don't plan to stay in our house (we've been here for almost 3 yrs, when we moved in were only planning to stay for 2 but the housing bust came), so now we're between a rock and hard place deciding on whether to remodel or leave it as is... As is is fine, everything is new-ish and in working order but a tad outdated as far as the countertop and tile floors. The space is maybe 12 by 15, though, so instead of our original birchwood, stained cabinetry (which is gorgeous, I might add), I would definitely reface with white and have new hardware installed, as well as new stainless appliances and new countertop.

My dream kitchen is simply to have my mother's. Although I have no pics, she has a Dutch Colonial 5,600 square foot home that is just gorgeous through and through, kitchen included. In the kitchen, she has walnut original cabinetry, (dark stained), a double built-in oven surrounded by the same brick that is on the outside of their home, a beautiful butcher block island and bar going right into their breakfast room...AHHH, it is the envy of all who enter. Yeesh. She's always coming up with ways to improve it, but so far has only to change the wallpaper and tile about 6 times, and has had that beautiful butcher block island covered with ceramic tile, unfortunately. every time DH and I are there she is telling us not to lean on it so we don't break the tiles...blech. It kills me. Her range is one of those flat things that has a chimney for a hood (no kidding, it does lead into one of their three chimneys), but she still has some crap ass Revereware pots and pans from Target even though we always offer to buy her new, more expensive and updated ones...she doesn't even use the new dishwasher that was installed 2 yrs. ago.... forget it. It makes me ill just thinking and typing about it. She has a great kitchen that most women/people would salivate over.
ya know it's funny. i am a pot snob. i own mauviel, all clad, calpahlon and revereware.
if for some reason i had to select all over again i would choose revereware copper bottom for 2 each of (1qt,2qt,3qt,4qt,6qt,8qt,16qt and 24 qt.) but buy calphalon for the high end cooking saute pans, and a hollandaise type all clad saucier of all sizes 1,2,3 qt and some non stick cheapo pieces for eggs and potatoes.
the pieces that have been outstanding: the calphalon 5qt covered shallow wide saute pans (i own 2). the calphalon plain unadorned turkey roaster. edited to add: and the round bottom all clad sauciers/
i would not buy the mauviel again. just wasn't good enough to justify all that money.
anyone think different?