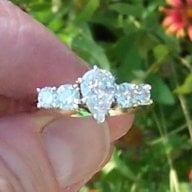 Joined

Jan 2, 2006
Messages

2,194
what woiuld you do differently?

i would install 2 identical cheapo gas ranges side by side so i could have 8 burners and 2 ovens. i would have two sinks, a dirty area and a prep area sink. edited to add: i frequently need 7 burners to cook a turkey dinner. or to prepare an SCA feast.

the unadorned island has been a very useful space.

i would have a large room sized butlers pantry with floor to ceiling shelves, glassed in, to put all the dishes and stuff not used very often.

i would get rid of this bar which never gets eaten off off. too high - makes my back hurt. it is a clutter collector.

i would choose revereware pans duplicates of all sizes 1qt,2 qt,3 qt, 4 qt,, 6 qt, 8 qt, 16 qt, 24 qt.
all clad, lincoln, and calphalon for searing, saute, and fond based meals/deglazing.

all sizes of stainless steel mixing bowls that don't break.

a built in microwave hole.

a narrow place to put cookie sheets and platters.