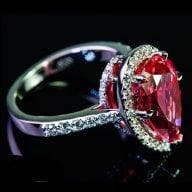 Joined

Apr 22, 2004
Messages

38,285
Date:

3/29/2009 9:09:55 AM

Author:

MakingTheGrade

Gailey, the topaz in the picture I posted is untreated, which is probably why it doesn''t look like what you normally think of as ''blue topaz'', it''s pretty though

Just a question on logistics because I''m new at this. Say I contact 3 different cutters to look for something of this color, I really only want 1 stone, so what happens if 2 of them find something at roughly the same time? If you ask that they custom cut something for you, would you still be able to return it if the color wasn''t quite right in person, of if you liked another cutter''s stone better by comparison?
This varies from vendor to vendor. Gene, Dan and Barry are not particular; their stones are always 100% refundable. Jeff''s stones are also refundable but not the deposit.