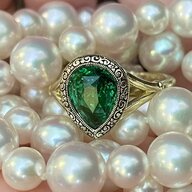 Joined

Mar 2, 2009
Messages

12,627
I''m wondering what my options are for an icy blue stone around 6-7mm?
I know some sapphires (especially the montana ones) have that icy, steel blue color. (I love Icekid''s avatar color!)
Does spinel? I''m aware that cobalt blue spinel of kashmir color is really rare and expensive, but is icy blue hard to come by as well?
I thought about zircons, but all the blue zircons I''ve seen actually look kind of warm in color (they''re usually kind of teal/pool color)
London topaz tends to be a little too saturated and "electric" blue, while aquamarines are generally too pastel/sky blue (and both aquas and topaz are commonly treated for their color, and I''d rather it be untreated).
Any obvious ones that I''m overlooking? I really like that cold, icy blue color, but I''m not familiar enough with colored gems to know what my best options are.
Thanks!
(Here''s a pic of Icekid''s sapphire for reference, hopes she doesn''t mind!)