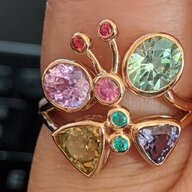 Joined

May 13, 2018
Messages

3,761
I've gone into Walmart plenty of times with my dad when he buys fishing supplies and ammo. They don't carry those at Target or Costco. What I saw before the coronavirus was that Walmart has so many registers, but very few open. We always checked out at tires or sporting goods because the regular lines took 15-20 min before the cashier started helping you. It's kind of pointless to have all those registers when there's not enough employees to man them. I highly value my time, because I have a side gig where I track my billable time. Time = money, so if I can conceivably shop anywhere else with shorter lines, the cheaper prices at Walmart are generally not worth the trade-off of the long lines. But Walmart really is a place where getting automotive stuff and fishing stuff is more convenient than the alternatives. I just don't buy my home goods and groceries there because where I live, there's even cheaper options for them with shorter lines (i.e. Amazon, Vallarta).

From a business perspective, they are not good to their workers. I've heard anecdotally that whenever there's a wage raise instituted, employees are on their guard to be fired, because each wage raise comes with a ceasing of new hires and added responsibilities for the existing employees. None of this actually makes me want to support their business in general. But we keep going back for fishing supplies and stocking up on ammo.

My personal opinion is that Walmart is fine for the type of person who doesn't mind the long lines, regardless of demographics. It's a personality thing. Before I started dividing my hour into 10 billable units, I think I would have been more likely to shop there more often.