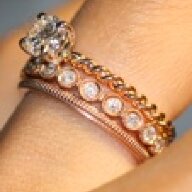 Joined

Sep 14, 2008
Messages

114
So my lil sis' bf FINALLY formally asked for my help in picking out my lil sister's e-ring! proposal is next month...
The only info he gave me is that his budget is $3-4K. He's clueless on the rest.

SOOO i'd LOVE your help in finding a great stone!
My sister's only guidelines are that she wants a rb and a 4-prong setting.

She's totally not into jewelry at all, so I think most of the budget should go towards a gorgeous stone since she probably will never upgrade.
Though I think a platinum setting will probably be best since it'll also probably never be upgraded.

I really appreciate any help & guidance!
Looking forward to seeing the beautiful stones that you all always manage to find!