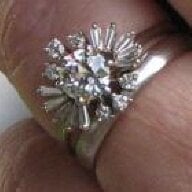 Joined

Jan 7, 2007
Messages

2,514
How many American girls wear those ugly false nails? I can see tons here and It's so apparent, expensive and harmful for your true nails! I just don't understand!!!!

It's really an important market in USA but It's the only one country I can see so many women who use this type of nails! Could you explain the phenomenon for me please?

I know it's not easy to everyone to have beautiful natural nails but so many? I believe there are another reason but I can't find what.

Yes I know it's a little rude but I simply want to know why you wear acrylic or other material false nails.