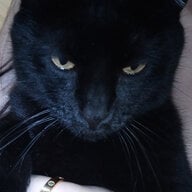 Joined

Jun 7, 2019
Messages

1,446
I am not proud, lol. The sugar high and consequent crash would have frightened witnesses but I was home with just the cats and they looked at me as though I were an alien predator.
you know what helps, me, mitigate the highs and lows of my sugary full fat pint??
a strong cup of black tea, such as an english breakfast, with a pinch of ceylon cinnamon.
as a result, i actually do not experience the sugar high and crash, thereafter. just contentment