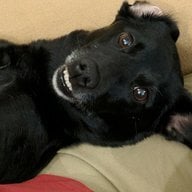 Joined

Sep 1, 2009
Messages

8,984
DH is impossible sometimes! His birthday is in just over a week and he spent the last few days hinting at then directly saying he hopes we can get the take home churasco meal for his birthday. I mean, he gets we can't really do anything....

I finally had to tell him that not only was that what I was doing, it had already been planned and arranged before he sat there hinting. I was trying to surprise him but he just looked so hurt as I kept changing the subject.

He has been doing the same thing with the Blu-ray series I already ordered. I guess it is confirmation that I picked well!