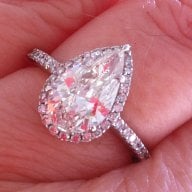 Joined

May 23, 2010
Messages

6,731
So I got the pearls from Jose today, the ones in this thread:
[URL='https://www.pricescope.com/community/threads/so-its-on-hold-what-do-we-think.165570/']https://www.pricescope.com/community/threads/so-its-on-hold-what-do-we-think.165570/
[/URL]
I think, quite honestly, that I just don't like Tahitians. They are lovely, very "shiny" said DH, and my DD likes them. I am just not into it.
I thought maybe it was because they were multi-colored, and I tried to imagine; what if the whole strand was this one color? I picked out one of the amazing colored ones (there are
AMAZiNG
colors) and visualized a whole strand. Meh. The luster is amazing, very strong, but they're still Tahitians.
I think I came to this conclusion last year, when I was picking a birthday bracelet, and I ended up with a golden bracelet over a large selection of Tahitians. I guess I just don't think pearls are all that exciting unless they're golden? DH says I'm just spoiled and he was very impressed with the strand. Considering he doesn't usually pay attention, I guess that's good. DD says they're very nice and she thinks I should keep them. I do like the extender a LOT, and will always do this for pearls from now on.
I was kind of intrigued with a couple of the bright silver ones, though. Maybe a strand of those? I think I was also spoiled by size of the goldens that I bought from Jose last year; those were just over 12mm and these are only 11mm. I like a "big fat look" on my pearls, and these are a tiny bit more of a "normal" size. Overall, I prefer my goldens, but they cost almost 3 times as much (DH was quick to point out).
So, I think these will go back on Monday, but I'll give it the weekend to think about it. They are intriguing, and change a LOT in different lights. They're as changeable as a colored stone, which is odd. My bracelet from Sarah (which doesn't have near this luster, but is a multi-color Tahitian) doesn't change as much. I like the bracelet because it's like a toy I can look at and play with, but a necklace is supposed to compliment my face. The goldens light me up, this is kind of meh on me.
I should mention Jose had great service, I ordered them on Wed, and received them on Friday. He strung them and added the extender in a couple of hours.
Okay, too much rambling,
I took some pics in different lights for everyone to enjoy.Just the cell phone, though, so not a lot of detail. They look way prettier in RL, but I didn't want to get out the camera.