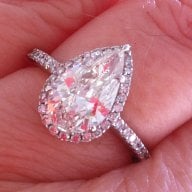 Joined

May 23, 2010
Messages

6,731
I like this strand from Jose, it's got cool colors, but I'm just not sure if it's too weird. It is a multicolor, so not sure if I like that. I have that bracelet from Sarah that is a multi Tahitian (NOTE TO FLYGIRL; yes, turns out I wear it a LOT because it's on an elastic band! You said I might do that, and you were right!) and I like looking at it and playing with it. I like the multiple colors around my wrist.
BUT I am not sure I want a multi around my neck. That's the question; will it look disjointed and odd as a necklace?
I asked him to send me extra pics because I can never tell anything from a single picture, and that magnify thing on his site doesn't work for my MAC very well. I also like to see pearls in different lights since they change so much.
http://www.tahitianpearls.biz/tahitian-pearl-necklace/near_round_tahitian_pearl_necklace_tnpb.htm
So, what do you think? Go or no?
Does anyone else have a multi color necklace they can link to or add? So that I can see how it looks around your neck?