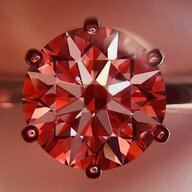 Joined

Aug 1, 2008
Messages

608
Well, I'm back. After thinking I was absolutely in love with the 1.62 carat F VS1 diamond I ordered, I found myself still checking out Rarecarat to see what new diamond were coming in. Don't get me wrong- the 1.62 carat diamond was perfect in every way- wonderful portions, totally icy white, inclusions almost impossible to find even with a loupe, truly an ideal find.
In my search, I came across a 2.14 carat H color, SI1 for about the same price as my 1.62. After my experience with a very tinted J, I was apprehensive, further, it's hard to find a "good" SI1, especially in lab diamonds... I plugged the numbers into the HCA, to my shock it came back at solid 1.4, even better, the cert indicated qualified as a heats and arrows cut, and all the angles were completely within PS ideals.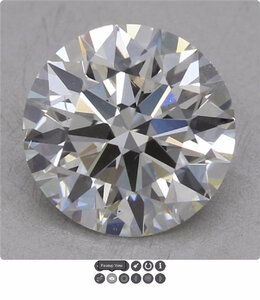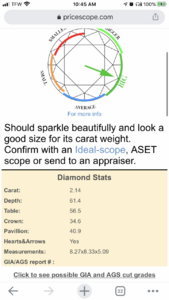 I was dying to see it in person. I ordered it, canceled, chatted with the customer service reps and they agreed to send it to me loose, and let me compare it to the 1.62 (I am probably their least favorite customer, but they stayed polite and professional the whole time). It arrived! I was shocked- this diamond is a truly good SI1! There are no inclusions on the table, and the largest clarity characteristic is a clear feather near the crown- I can spot in from about 4 inches away if I tilt the diamond just so. Even better, it faces up very white but with a wonderful depth I don't think the F quite had. I kept the loose diamond for a whole week just so I could see it in other lighting environments (even took it to work!); although it wasn't completely colorless in every environment the tint it did show was akin to the liquid mercury look I've heard others on PS talk about but had never seen in person. Here's a picture of it by the F.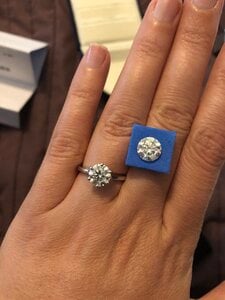 Unlike the J, I found the color to be charming, more "real", and it just has the most incredible sparkle, and colored light return I've ever seen in a diamond; The icing on the cake was the fat arrows! I confirmed with Yadav that I would be exchanging the 1.62 for the 2.14. So, without further ado, here she is- sorry my pics are rough, it's hot out and the flowers aren't in bloom for glamour shots: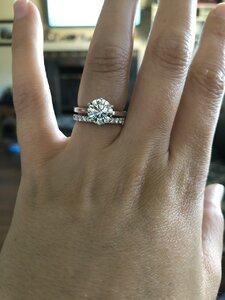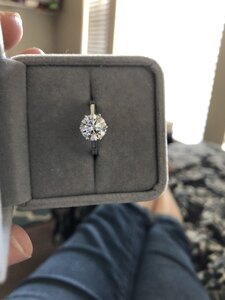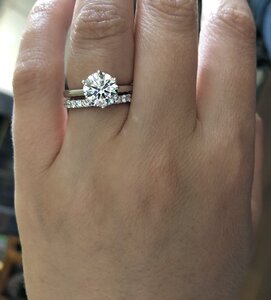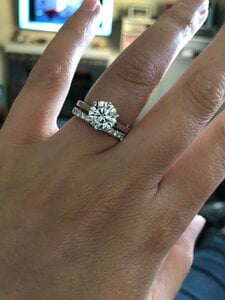 I'm a sentimental fool too- my daughter was born in 2014, her name starts with H so that fact that it is a 2.14 carat H is a lovely piece of serendipity.