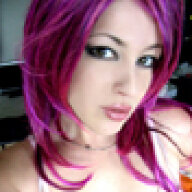 Joined

Oct 17, 2006
Messages

200
Hey everyone!
Bryan proposed!!!!
A couple of days ago while surfing, he found a perfectly intact large clam shell....empty of course
The other night we were walking out on the beach with everything glowing in the full moon....it was like being on a different planet. He distracted me for a second and put the shell on the sand, knowing I'd pick it up. (I love shells and collect them). When I saw it, I thought something was either alive or dead in it, haha! Lucky I didn't throw it in the ocean
When I opened it though, it almost WAS alive....with sparkles! When I realized what was going on, I think I went into shock! Next thing I knew, he was on one knee asking me to marry him!
The way he did this overshadowed the ring, HONESTLY. But now that it's over, it' time to show it off
HEHE!
Well, I guess here's the part you all care about....LOL! The bling!
Click here for the Diamonds stats!
We had it set in a Gelin & Abaci tension setting in platinum. Diamond is from
Good Old Gold
and the setting was done through Diamond Brokers of Florida....!
My EXACT ring is going to be featured in Space Coast Living Magazine as DBOF ad! How COOL!
When Bryan picked it up, he said it was worth every cent and it suited me PERFECTLY. When I saw it, of course, I thought the same thing!
It was set in such a way that the girdle inscription is exposed (Bryan 'heart' Catherine) with the heart being an actual heart symbol. He also had an inscription put on the inside of the band....our little twist on love forever
Of course, more pictures to come, but for now, ENJOY!
We are just obsessed with it....it's just so wonderful!!!!
Wheeeee!!!!








Thank you pricescope for making this all possible! You guys rock!

EDIT:
Here is the shell he used