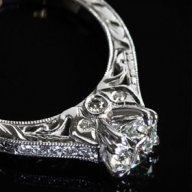 Joined

Mar 7, 2009
Messages

161
OK, let me start off by saying the stats aren''t perfect but the stone is beautiful in person. It reflects light amazingly. It is only EGL-USA certified, but I still love it. It is really a marvelous stone in person.

Stone 88018505D
Weight 0.70 CT
Shape ROUND BRILLIANT
Color H
Clarity VS1
Measurements 5.95 x 5.85 x 3.35 mm
Depth 56.8%
Table 64%
Crown 12.1%
Pavilion 42.7%
Crown Angle 33.4°
Pavilion Angle 40.6°
Girdle VERY THIN TO MEDIUM FACETED
Polish GOOD
Symmetry GOOD
Fluorescence N/A
Culet N/A
Cut Grade N/A
Comments
UGS Appraisal Value N/A

http://66.134.214.118/oresults/SearchPage.php?st_num=88018505D - copied from here

I made a depost on the stone. I am paying about $1,900 for it. Maybe I am just getting diamond happy over here, but the stone has a lot of brilliance when compared alongside similarly priced/sized stones. I know people normally say depth should be greater than table, but I think this stone works. I''m obviously no expert and I think I like diamonds more than my girlfriend right now.

How much are ASET scopes? I''m thinking about picking one up to look at the stone with.