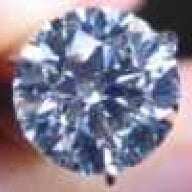 Joined

Nov 29, 2006
Messages

804
ETA: I have now seen the diamond myself and can confirm what my boyfriend saw.
So, most of you know that I talked my BF into buying online after I found PS and read everything on here. He was never comfortable with the online thing and still isn't . . . and now this . . . We bought a diamond from
WF
and were really nervous about it BUT it ended up being GORGEOUS and I fell in love with it. Then there was the setting question and after looking at almost 3 dozen settings at almost a dozen local places we decided to go with the
WF
channel set platinum setting for $1530, a little out of our price range but I thought since we saved almost $500 by buying the diamond online, we'd splurge and we felt it would be better not to deal with 2 different vendors . . .
I made it very clear to my sales contact at
WF
that I was a perfectionist and needed everything to be just right with the setting. By this time, I guess I got real comfortable with
WF
's reputation and never expected a problem. I was even telling my best friend just 2 days ago that when her boyfriend goes to buy her ring, he should talk to me first because I now have the perfect place to buy her BIG rock and what fun for me to help him pick it. Well, last night my ring arrived by FedEx . . . my boyfriend has decided that he doesn't want me to see the finished ring till her puts it on my finger, so he insisted that I NOT see it. I told him he needed to make sure everything is perfect because we only had 10 days to send it back. I fully expected that everything would be perfect. Well, I come home from my guitar lesson last night and wake him up to ask him how the ring was . . .
He said he is REALLY disappointed. The center diamond is off kilter, not set straight but is tilted to one side. The channel setting is not square with the diamond AND there are some small scratches and dents in the platinum near the channel set side stones, AAARRRGGGGG !!!! And to top it all off, he won't let me see it because he still wants something to be a surprise (he let me help with picking the diamond and setting after much convincing). So, to add to the sadness from having him disappointed, I am extra worried and upset because not only do we have to play this shipping game, back and forth (more $ that I could have saved had we purchased locally) but he isn't as much of a perfectionist as I am . . . I am a scientist and little imperfections are obvious to me that he will just skip over, so who knows what else is wrong with it that he hasn't picked up on . . .
I am SO SAD !!! I feel like crying. I called
WF
and am waiting to hear back, my sales rep was in a meeting. I have had this lump in my throat since last night, didn't sleep well and am just really upset . . . and now my BF can say I told you so about buying locally.
After having such a GREAT experience buying the diamond from
WF
, I am floored that they would let a ring out their door without a quality control check. I just wanted to share this with you guys and hope you can ease my fears while I wait to hear back from them.
hikerchick