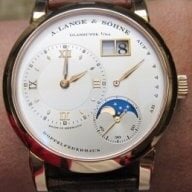 Joined

Apr 3, 2004
Messages

33,852
here's the story...
in the early July i agreed to sell him the watch for $15,300 and he supposed to send me a deposit of $300 with the balance due when we meet up on Aug 17 in San Jose,Ca. the first check "supposably" was lost in the mail..
the second check he said was returned b/c it was to an undeliverable address..
then the 3rd time he said he'll send me the $300 deposit USPS priority mail.this was 3 weeks ago..
then 2 weeks ago he said the watchmaker in NY told him that it will cost $1100 to fix the nick on the bezel of the watch,but the same watchmaker told me 6 weeks ago it'll only cost $100-$200 to fix the nick.anyhow,about 3 weeks ago i agreed to sell him the watch for $15K.
He's now selling the watch on Ebay but
the watch is still in my possession

...

.. the pics he posted on Ebay are the same ones i emailed him,and there are 11 offers for the watch!!. i mean i don't care if he sells the watch for a million bucks,but buy it from me first


..then he can do whatever!!.
http://www.ebay.com/itm/A-LANGE-SOHNE-Lange-1-Rose-Gold-All-B-P-101-032-/190570272958?pt=Wristwatches&hash=item2c5edf98be