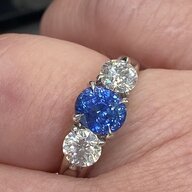 Joined

Feb 29, 2012
Messages

10,041
I really appreciate everyone's help but I'm pretty sure I made a mistake coming to these forums and posting rather than just looking at the "suggested vendors." I felt I was pretty honest with what I want but ultimately I got pushed in certain stone color directions I explicitly said I didn't like (not referring to dark blue variations but rather full on cornflower status.)

I told my fiance I was coming on this forum to get some advice before ordering from JA (not saying that was the ultimate decision.) He was really supportive to see certain opinions about the dark stones he knows I like. Now I feel thoroughly embarrassed, not because of the setting opinion looking black but because his budget is Soooo much money he could get a thousand gross grey rings. Or his budget is NOT enough to get a substantial real dark Middleton ring. Sorry I can't remember.

I hope some of you realize how much this place can push people who are really trying to educate themselves away.

Once again I appreciate all those who gave me suggestions, looked up loose stones, etc. but this place is not the nicest to strangers outside of this clique. Pretty sure this counts as a blip in covid times.
The problem is timing. With covid, people like Gary from Finewatergems can't get to Sri Lanka.
I get the feeling most colored stone vendors are sort of shut down right now.
You can also reach out to Inken on Etsy at Enhoerning jewelry or Gary at Finewater gems and get them to look for you at gem shows.
This way, you can see a selection of what they found.
FWIW, I personally wouldn't buy a gem from James Allen.
I second the notion of calling Ilya at Ivy and Rose to see if he has anything.
Also, you can call David at Diamonds by Lauren (on vacation currently) for his inventory.
I don't personally feel like anyone has dinged your color selection. I encouraged you. But nevertheless, you feel people did so that is what matters.
Please come back when you get a ring and show us so we can congratulate you!
As I mentioned, and want to stress again, Covid has limited available stones right now.
Oh, also try Pearlmans and Leibish. And the dude who says he won't knowingly sell to pricescoppers. Lol