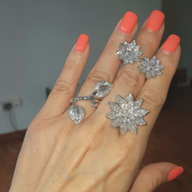 Joined

Oct 5, 2006
Messages

9,927
So another PS'er and I were in town yesterday and we went to a local jeweller's to have a look at an 8ct oval (but they had it locked up so we couldn't ogle it
). They showed us these HUGE 5ct stones instead. I'll take one of each please, ha ha!


Enjoy the pics - we were drooling BIG time. Am re-thinking the 5ct RB "holy-grail" now. The Asscher gives the RB a run for its money!

It looked particularly elegant on the other PS'er's beautiful hand (the one without the nail varnish)!

FYI, the smaller ring is my 3.02ct F VS2. The 5ct's are both high spec'ed, am thinking D or E, VS or VVS (can't remember exactly).