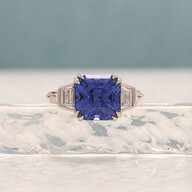 Joined

Feb 21, 2010
Messages

360
A prong is WAY less durable than a tension setting.
Prongs are tiny and delicate and catch on things.
Gals lose diamonds every day by simply putting their hand into a pocket or purse, or putting on a sweater.
She feels nothing, but later notices her diamond is gone.

Tension settings, when made by a reputable company like Niessing or Steven Kretchmer, are so beefy that if you subjecteted it to a trauma strong enough to release the diamond you'd probably end up in the ER with broken bones in your finger.
Few things - many tension settings are not as well made as the ones you mentioned. Also. My understanding is even from those very reputable makers, resizing can be tricky.
As for the 'gals lose diamonds even day' - sample size is an issue here. The vast, VAST majority of stones are prong set, ergo the vast majority of lost stones are from prongs. The percent of tension set stones is so small in comparison to prongs, that I'm not sure that comparison is even fair. For all we know, one lost tension stone is comparable to a thousand lost prong stones given their distribution across the jewelry population.